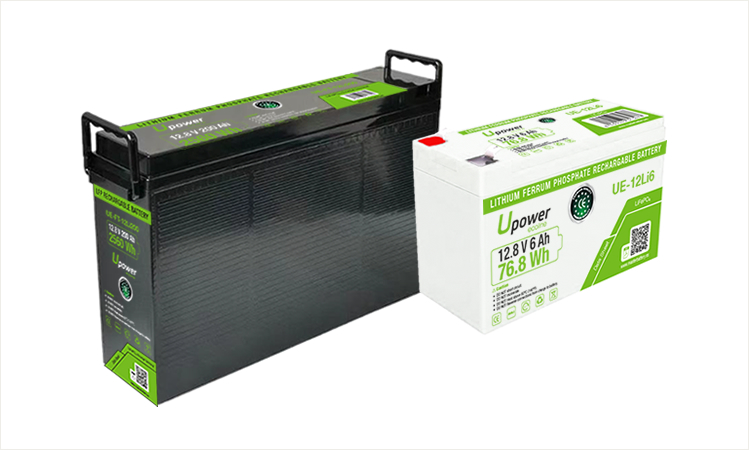 LIFEPO4 BATTERIES - A FAST AND SUSTAINABLE REPLACEMENT SOLUTION FOR LEAD-ACID BATTERY REPLACEMENT
Upower Ecoline 12V/24V LFP lithium monoblock batteries are designed and manufactured with the features of high energy density, safety and reliability, long service life, etc. Thanks to their unique advantages, they are widely used in caravans, tour buses, electric vehicles such as motorbikes and bicycles, emergency lighting, security control and other power supply equipment. Their universal dimensions and excellent performance offer the user an ideal direct replacement solution for the traditional lead-acid battery.
New!
We present the LFP lithium battery model in front format, which facilitates the installation and monitoring of the battery banks.
Features
They consist of LiFePO4 battery cells in series and in parallel with the following main features: good safety performance, high energy density and high cycle life.
Industrial laser welding is used, with high degree of automation, low internal resistance and high energy efficiency, to ensure welding quality.
It supports connection of 4 batteries in series for 12 VDC models and 2 batteries in series for 24 VDC models, making it suitable for a wide range of applications.
Built-in intelligent BMS, which allows optimising battery performance and safety by automatically balancing the cells and protecting them from overcharge, over-discharge, over-current, short-circuit, high and low temperature protection functions, etc.
IP65 degree of protection.
The LFP lithium-ion battery is environmentally friendly and has a low lifetime cost.
The products are developed independently, so we have experienced engineers to provide technical support.
Customised solutions can be offered according to users' needs.
This model is frequently used in the following applications: UPS, solar backup, military application, computer backup, emergency lighting, security system backup, engine starting, robots, industrial equipment, recreational vehicles, telecommunications, marine, small electronics, large off-grid energy storage and other deep cycle applications.
Overall Protection

SOLUTIONS
+

THINK

+

CONSTRUCT
Benefits
Significantly less weight
10x longer life span than lead acid
Green energy source with zero
emissions
Fully automatic built in battery
protection
99% efficient
Safe LiFePO4 technology
Standard BCI and DIN sizes
Greater energy density
Endless applications
LiFePO4 the Ideal Choice?
Advantages
Up to 10 times longer life


The life of our LFP lithium battery is 10 times longer than lead-acid batteries.



60% faster charging


Our batteries can be 100% charged in one hour.



70% less weight


Lithium-ion batteries weigh one third less than lead-acid batteries.



Maintenance-free


No maintenance is required, the BMS takes care of automatic repair of cell imbalance or other potential problems.



Built-in protection


Our lithium batteries incorporate a battery management system (BMS).



Safe battery


No potential risk of explosion and fire. Lithium ferrophosphate is the safest and most stable lithium-ion battery technology.



100% DOD


Our battery operates for over 2,500 cycles at 100% DOD, compared to only 500 cycles at 80% DOD for a lead-acid battery.



Warranty


5 year warranty against manufacturing defects.



Wide range of working applications


The list of applications and uses for our batteries is almost unlimited.
Specifications
UE-12V Series
Model
Nominal
Voltage
(V)
Nomimal
Capacity
(Ah)
Maximum
Charge
Current
(A)
Dimensions
Weight
(Kg)
Data
Sheet
(PDF)
Length
(mm)
Width
(mm)
Height
(mm)
UE-12Li6
12.8
6
5
151
65
94
0.8
UE-12Li10
12.8
10
10
151
98
95
1.4
UE-12Li18
12.8
18
15
181
77
170
2.1
UE-12Li35
12.8
35
35
195
130
160
5.0
UE-12Li50
12.8
50
50
229
138
205
5.0
UE-12Li75
12.8
75
75
260
172
210
7.5
UE-12Li100
12.8
100
100
330
172
220
10.0
UE-12Li120
12.8
120
120
330
172
220
12.0
UE-12Li150
12.8
150
150
490
170
240
14.5
UE-12Li200
12.8
200
100
521
238
220
19.5
UE-12Li300
12.8
300
100
521
238
220
28.0
UE-24V Series
Model
Nominal
Voltage
(V)
Nominal
Capacity
(Ah)
Maximum
Charge
Current
(A)
Dimensions
Weight
(Kg)
Data
Sheet
(PDF)
Length
(mm)
Width
(mm)
Height
(mm)
UE-24Li50
25.6
50
50
330
172
220
11.0
UE-24Li60
25.6
60
60
330
172
210
10.0
UE-24Li100
25.6
100
50
520
238
220
19.0
UE-24Li120
25.6
120
60
521
238
218
25.0
UE-24Li150
25.6
150
75
520
267
220
28.0
UE-24Li200
25.6
200
100
640
245
220
38.0
UE-FT-12V Series
Model
Nominal
Voltage
(V)
Nominal
Capacity
(Ah)
Maximum
Charge
Current
(A)
Dimensions
Weight
(Kg)
Data
Sheet
(PDF)
Length
(mm)
Width
(mm)
Height
(mm)
UE-FT-12Li100
12.8
100
100
395
110
286
10.0
UE-FT-12Li200
12.8
200
100
561
125
316
19.5
UE-FT-12Li300
12.8
300
100
561
125
316
28.0