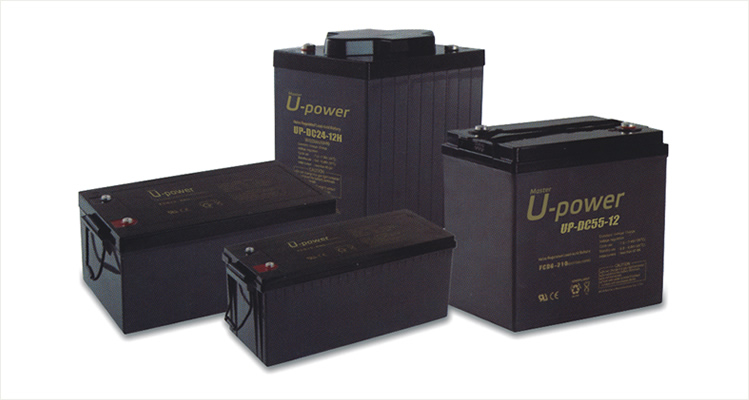 Deep cycle AGM
Soperb deep cyde performance
Plates with a specific design, joint to their thickness and carefully alloy selection as well as the active material formula, make these batteries unique in deep cycle applications. All of this also results in a minimum self-discharge level.
SOLUTIONS
+

THINK

+

CONSTRUCT
Main uses
Golf trolleys & buggies
Wheelchairs
Electric vehicles
Electric tools
Electric / electronic toys
Solar energy
etc ...
Specifications
Model
Nominal
Voltage (V)
Capacity
(10H)
Length
(mm/inch)
Width
(mm/inch)
Height
(mm/inch)
Total Height
(mm/inch)
Weight
(kg)
Terminal
Data Sheet
(PDF)

000

UP-DC5.6-6
6
5.6
70 / 2.76
47 / 1.86
100 / 3.94
106 / 4.17
0.93
T1

010

UP-DC13-6
6
13.0
151 / 5.95
51 / 2.01
94 / 3.70
100 / 3.94
2.05
T1 / T2

011

UP-DC3.5-12
12
3.5
134 / 5.28
67 / 2.64
60.5 / 2.38
66.5 / 2.62
1.35
T1

012

UP-DC5.6-12
12
5.6
90 / 3.54
70 / 2.76
101 / 3.98
107 / 4.21
1.8
T1 / T2

013

UP-DC7.2-12
12
7.2
151 / 5.95
65 / 2.56
94.5 / 3.72
100 / 3.94
2.5
T1 / T2

014

UP-DC8.0-12
12
8.0
151 / 5.95
65 / 2.56
94.5 / 3.72
100 / 3.94
2.75
T1 / T2

015

UP-DC13-12
12
13.0
151 / 5.95
99.5 / 3.92
97 / 3.82
101 / 3.98
4.2
T15

016

UP-DC18-12
12
18.0
181 / 7.13
77 / 3.03
167.5 / 6.59
167.5 / 6.59
6.2
T3

017

UP-DC20-12
12
20.0
181.5 / 7.14
76.5 / 3.01
167 / 6.57
170.5 / 6.71
6.9
T15

018

UP-DC24-12
12
24.0
166.5 / 6.56
175 / 6.89
125 / 4.92
125 / 4.92
8.57
T12

019

UP-DC24-12H
12
24.0
165 / 6.50
125 / 4.92
175 / 6.89
175 / 6.89
9.5
T12

020

UP-DC26-12
12
26.0
166.5 / 6.56
175 / 6.89
125 / 4.92
125 / 4.92
9.35
T3

021

UP-DC33-12
12
33.0
195 / 7.68
130 / 5.12
164 / 6.46
180 / 7.09
11.2
T5 / T6 / T12

022

UP-DC38-12
12
38.0
197 / 7.76
165 / 6.50
170 / 6.69
170 / 6.69
14.5
T6

023

UP-DC50-12
12
50.0
257 / 10.11
132 / 5.19
200 / 7.87
200 / 7.87
18.1
T6

024

UP-DC55-12
12
55.0
228 / 8.98
137 / 5.39
210 / 8.27
230 / 9.06
17.7
T9

025

UP-DC75-12
12
75.0
259 / 10.20
168 / 6.61
208 / 8.19
214 / 8.43
21.0
T6 / T14

026

UP-DC100-12
12
100.0
330 / 12.99
173 / 6.81
212 / 8.35
220 / 8.66
30.0
T11

027

UP-DC120-12
12
120.0
410 / 16.14
177 / 6.97
225 / 8.86
225 / 8.86
37.6
T11

028

UP-DC150-12
12
150.0
485 / 19.09
170 / 6.69
240 / 9.45
240 / 9.45
43.5
T11

029

UP-DC200-12
12
200.0
522 / 20.55
240 / 9.45
218 / 8.58
224 / 8.81
62.5
T11