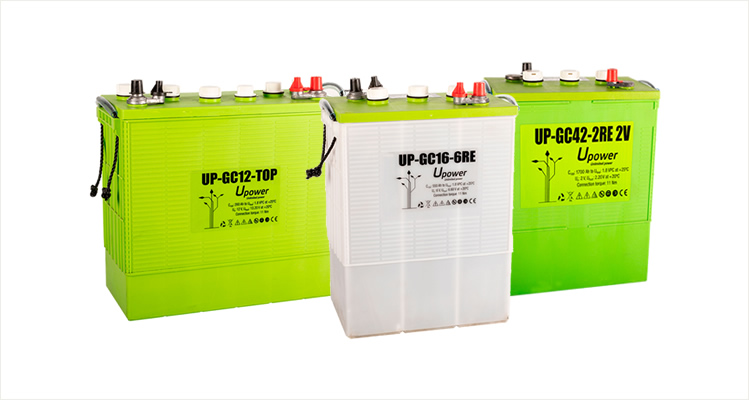 Deep Cycle Solar
Main Features
Renewable Energies, Deep discharges applications.
More than 1000 cycles at 75% D.O.D.
More than 2500 cycles according to IEC 61427.
Long service life.
High resistance to deep and repeated discharge cycles.
SOLUTIONS
+

THINK

+

CONSTRUCT
Solar energy systems
Mobile homes
Street solar lighting
Vessels
Fork lifts
Lifting platforms
Electrical vehicles
Sweepers
Scrubbing machines
Electric stackers
etc ...
Specifications
Model
Nominal
Voltage
(V)
Capacity
(100H)
Capacity
(5H)
Length
(mm/inch)
Width
(mm/inch)
Height
(mm/inch)
Total Height
(mm/inch)
Weight
(kg)
Terminal
Data Sheet
(PDF)
UP-GC42-2RE
2
1700
1300 (10H)
318 / 12.52
181 / 7.12
425 / 10.87
443.5 / 17.46
52
DT
UP-GC2TOP
6
250
185
261 / 10.28
181 / 7.12
276 / 10.87
294.5 / 11.19
27.7
DT
UP-GC16-6RE
6
550
350
318 / 12.52
181 / 7.12
425 / 16.73
425 / 16.73
52
DT
UP-GC8TOP
8
212
155
261 / 10.28
181 / 7.12
276 / 10.87
294.5 / 11.19
30.8
DT
UP-GC12TOP
12
260
195
395 / 15.55
178 / 6.98
379 / 14.92
397.5 / 15.65
53
DT