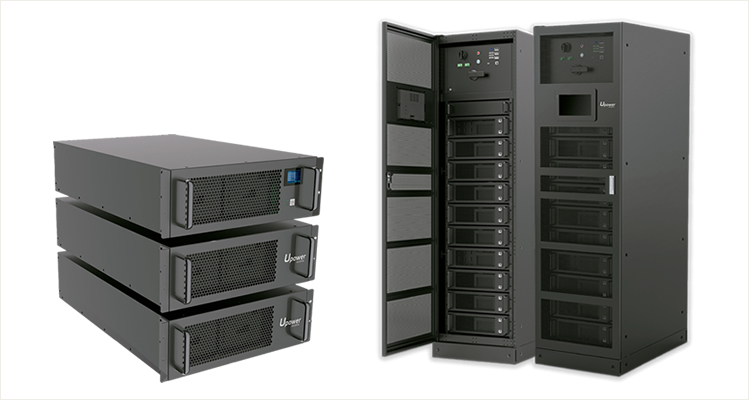 High Power for UPS Application
Built-in automatic protection for over-charge, over-discharge and exceeding temperature conditions.
One single BMS can manage multiple battery models (<200).
Internal cell balancing.
Thousands of cycles, 100% DOD, under normal conditions.
Can be charged using most standard lead-acid chargers (set for AGM/GEL cells).
System Security Guide
Cell Level


The electric core adopts LFP material system, wich has extremely high safety. In addition, one-way explosion-proof walve is designed on the top. In case of emergency, such as short-time connection outside, the explosion-proof valve can be punched open to cut off the circuit to prevent large safety risks.



Module Level


The temperature control module controlled by BMU at the module level can adjust the temperature in the module in real time to ensure that the operating environment is in a controllable range.



Rack Level


Rack level is mainly through the CBMS internal DC circuit breaker, reply, pre-charge resistance and diode and other power devices, the system to achieve overcharge, over-current, anti-reverse connection and other state management, to ensure the safety and reliability of the rack.



System Level


The main purpose of the system is to control the pressure difference between racks in the parallel machine state, and realize the balance adjustment between racks through pre-charge resistance to ensure the safety of system operation.
SOLUTIONS
+

THINK

+

CONSTRUCT
Battery Monitor System Guide
1. According to the battery modules connected in series after the total voltage is divided into three grades


U-BMS-LV, 10 ~ 64V (series 4 ~ 16 cells).
U-BMS-MV, 10 ~ 96V (series 4 ~ 24 cells).
U-BMS-HV, 96 ~ 300V (series 4 ~ 80 cells).

2. Interface


The one RS-485 for battery module;
The other RS-232 with PC or other controller connection;
The 5 signals "0" or "1" output signal; GPIO1 ~ GPIO5.
The 2 signals universal input or output port; GPIO6 ~ GPIO7 (standby).

3. BMS power supply


U-BMS-LV and U-BMS-MV from the string of battery power or the external DC12V power supply; U-BMS-HV built-in 10AH3.6V rechargeable battery, battery charger charging.

4. The power consumption of BMS


U-BMS-LV and U-BMS-MV: 0.3W ~ 0.8W
U-BMS-HV: 0.4W ~ 0.6W

5. BMS working mode


Master mode: the whole battery modules`system managed by BMS, RS-232 for monitoring;
Slave mode: PC may control BMS to manag battery system used RS-232 to recieve data and send command.

6. The BMS function


Battery configuration, such as Series or parallel;
Battery module address management;
Battery system state judgment: charging, discharging, static;
RS-485, RS-232 Bus management;
According to data, control protection switches.
Specifications
Model
Nominal
Voltage
(V)
Recommend
Charge Voltage
(V)
Nomimal
Capacity
(Ah)
Max. Cont. Discharge Current
(A)
Dimensions
Weight
(Kg)
Data
Sheet
(PDF)
Width
(mm)
Depth
(mm)
Height
(mm)
UE-192Li10HP
192
210
10
50 (5C)
65.3
18.5
150
0.31
UE-192Li20HP
192
210
20
100 (5C)
70.3
19.5
199
0.51
UE-240Li10HP
240
263
10
50 (5C)
65.3
18.5
150
0.31
UE-240Li20HP
240
263
20
100 (5C)
70.3
19.5
199
0.51
UE-240Li50HP
240
263
50
50 (1C)
106
20
308
1,22
UE-240Li100HP
240
263
100
200 (2C)
136
32
282.7
2.35
UE-384Li100HP
384
420
100
200 (2C)
136
32
282.7
2.35
UE-480Li100HP
480
525
100
200 (2C)
136
32
282.7
2.35
UE-512Li100HP
512
100
100
200 (2C)
136
32
282.7
2.35
UE-512V-Li
512
544
50/100
1C@100A/3C @ 300A
800
800
2000
600/695