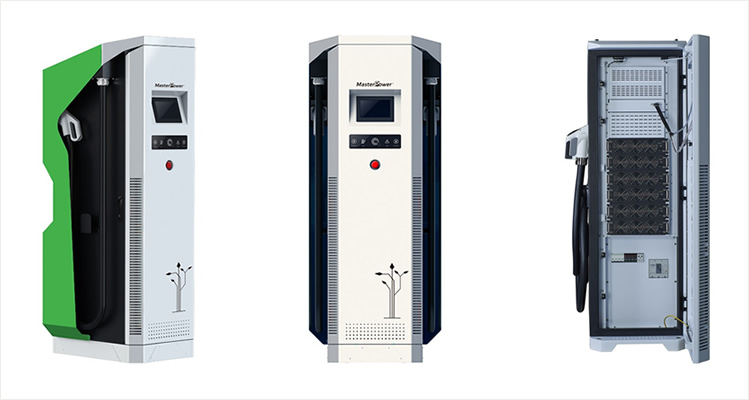 Série Véhicules Électriques
Smart DC Charger est un chargeur de haute puissance avec double sortie et double charge, distribuant les charges, adapté à la CDB ou aux espaces publics. Le produit se compose d'une partie d'interaction homme-machine, d'un module de puissance, d'un système de contrôle interne, d'un module de communication et d'un assemblage de câbles de charge.
Caractéristiques principales
• Il est modulaire et peut être étendu sans changer l'armoire.
• Ce chargeur permet la charge simultanée de 2 véhicules en répartissant la puissance
de charge.
• Communication: OCPP 1.6 - Open Charge Point Protocol.
• Il se compose d'un module de charge, interface de puissance, interface de charge, module
de protection, module de commande, module de mesure, HMI, armoire, etc.
• Fonction de gestion de la charge, HMI peut afficher le mode de charge, le courant de charge,
la tension de charge, le temps de charge et les informations de compte.
• Le chargeur peut ajuster dynamiquement le mode de charge en fonction de la tension de
Charge BMS et le caractère actuel. La sortie de charge est ajustée à la demande de BMS,
le courant de charge demandé est supérieur à la plage de sortie actuelle en mode de charge
de l'énergie constante, le courant de charge doit émettre en fonction de la valeur actuelle
maximum autorisé du chargeur.
• Fonction de distribution d'énergie intelligente, en cas de défaillance du module individuel,
le module peut être séparé sans affecter le fonctionnement normal du chargeur.
SOLUTIONS
+

PENSER

+

CONSTRUIRE
Avantages
Entretien facile
Module de puissance du système
Module de contrôleur
Module d'allocation d'énergie
Module d'alimentation AC-DC
Auto Echo, Économie d'énergie 5W
App (Contrôleur)
Fonction de mise à jour à distance
du module
Fonction de diagnostic à distance
Contrôleur d'origine ChAdeMO
et CCS
4 Jeux Axial Fan
Filtre remplaçable

Spécifications
MODÈLE
60 kW
120 kW
150 kW
Dimensions (L x W x H)
750 x 530 x 1685 mm
Weight
275 kg
310 kg
328 kg
Input Voltage
3 - Phase 380 VAC ± 15% (3 Ph + N + G)
Maximum Input Current
118 A
225 A
278 A
Input Frequency
50 ~ 60 Hz
Input THDi
≤ 5%
Input Power Factor
> 0.99 at a nominal output power
Output Current Range (Two output)
2 ~ 100 A
2 ~ 200 A
2 ~ 250 A
Output Voltage Range
DC 200 ~ 750V (DC 600 ~ 750V in Constant Power Mode)
Power Module
30 kW x 2 pcs
30 kW x 4 pcs
30 kW x 5 pcs
Efficiency
> 94%
Module Output Current Unbalance
< 5%
Module Output Voltage Ripple
< 0.5
Module Output Voltage Precision
< 0.5%
Module Output Current Precision
< 1%
Enclosure Rating
IP54
Operational Temperature Range
-25°C to 50°C
Altitude
< 2000 m
Operational Humidity Range
0% to 95% no-condensing
Noise
< 65 dB
Connector Communication Mode
In accordance with DIN 70121 and ISO 15118 standard
Connector Interface and Standard
CCS2 (IEC 61851-23) and CHAdeMO 1.0
Cable Assembly Length
5 m
Connector Output
Maximum Single Mode
CCS2 (60kW)
CHAdeMO (50kW)
CCS2 (120kW)
CHAdeMO (50kW)
CCS2 (150kW)
CHAdeMO (50kW)
Maximum Double Mode
CCS2 (30kW)
CHAdeMO (25kW)
CCS2 (60kW)
CHAdeMO (50kW)
CCS2 (90kW)
CHAdeMO (50kW)
Platform Communication
OCPP 1.6
Network Connection
LAN; GPRS 3G / 4G Option
Authentication Method
RFID / QR-code / Remote command
User Interface
7- inch HD screen
Power Distribution
Single Plug Mode / Average Output Mode
Safe Charging Mode
Smart charging mode to prevent the misoperation of human factor
Interlock
The interlock between the charger and BMS
Interface Safety Protection
Circuit discharge function, Insulation monitoring device (IMD), Battery reverse connection protection
Emergency Stop
Disconnect the charger and EV to prevent emergency incidents
Charger Safety Protection
Over / Under voltage, Overload, Output power limit function, Short Circuit, Anti-access,
Earth Leakage, Lightning, Overheat protection
Technical Standards
IEC 61851-1-2011, IEC 61851-23-2014, IEC 61851-24-2014,
IEC 62196-3-2014, ISO15118-2-2014, DIN 70121-2014
Les spécifications du produit sont sujettes à modification sans préavis.