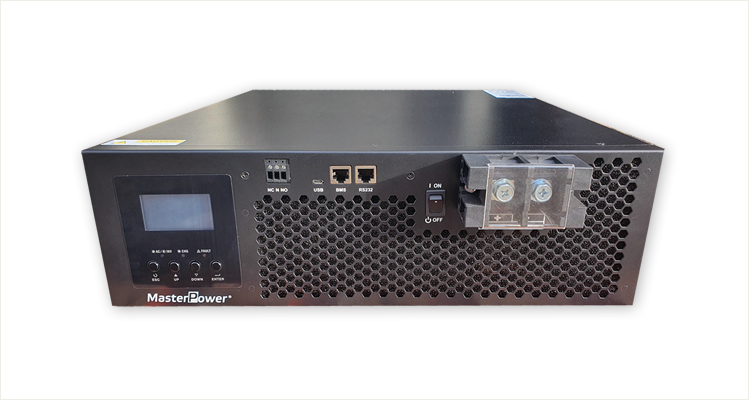 Série OMEGA X-Rack
Caractéristiques principales
Temps de transfert nul (0ms) pour protéger les charges de mission critiques, telles que les serveurs et les guichets automatiques.
Module de contrôle LCD amovible avec plusieurs connexions.
Bluetooth intégré pour la surveillance à partir du mobile (application disponible pour Android).
Prend en charge la fonction "USB On-the-Go".
Port de communication réservé au BMS (RS485, CAN-BUS ou RS232).
Possibilité de paralléliser jusqu'à 9 unités.
Disponible en 3kW 24V ou 5 kW 48V.
Pour des solutions complètes dans un seul cabinet.
Spécifications
MODÉLE
Omega X - Rack 3K
Omega X - Rack 5K
DATA SHEET
Rated Power
3000 VA / 3000 W
5000 VA / 5000 W
Parallel Capability
Up to 9 units
INPUT
Voltage
230 VAC
Voltage Range
110 - 280 VAC
Frequency Range
50 / 60 Hz (Auto sensing)
OUTPUT
AC Voltage Regulation
230 VAC ± 5%
Output THDv
≤ 3% for linear load, ≤ 8% for non-linear load
Surge Power
6000 VA for 5 sec
10000 VA for 5 sec
Efficiency (Peak)
93% at Line Mode, 90% at Battery Mode
Transfer Time
0 ms
Waveform
Pure sine wave
BATTERY
Battery Voltage
24 VDC
48 VDC
Floating Charge Voltage
27 VDC
54 VDC
Overcharge Protection
34 VDC
66 VDC
SOLAR CHARGER & AC CHARGER
Solar Charger Type
MPPT
Maximum PV Array Open Circuit Voltage
145 VDC
Maximum PV Array Power
1500 W
4000 W
MPPT Range @ Operating Voltage
30 ~ 115 VDC
60 ~ 115 VDC
Maximum Solar Charge Current
60 A
80 A
Maximum AC Charge Current
60 A
Maximum Charge Current
120 A
140 A
PHYSICAL
Dimension, D x W x H (mm)
140 x 303 x 525
Net Weight (kg)
13
13.5
Communication Interface
USB / RS232 / RS485 / Bluetooth / Dry-contact
OPERATING ENVIRONMENT
Humidity
5% to 95% Relative Humidity (Non-condensing)
Operating Temperature
0°C to 55°C
Storage Temperature
-15°C to 60°C
STANDARD
Compliance Safety
CE
UL
Les caractéristiques techniques du produit sont susceptibles d'être modifiées sans préavis.