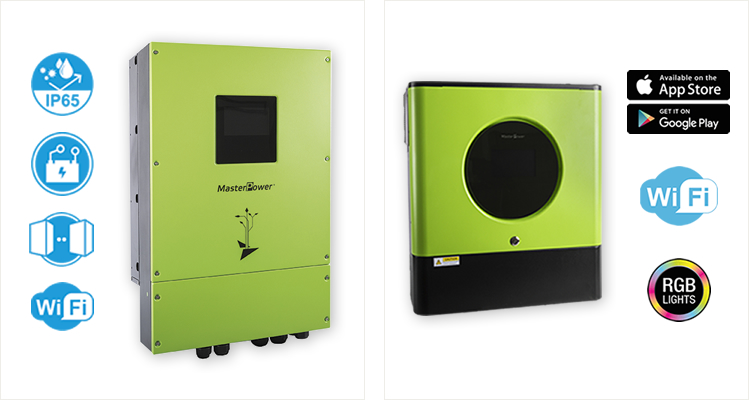 Série Omega PRO
v

2

Caractéristiques principales
IP65 étanche à l'eau et à la poussière rend l'onduleur disponible pour diverses conditions de travail.
Port de communication réservé pour BMS (RS485, CAN-BUS ou RS232).
Conception de ventilateur remplaçable pour faciliter la maintenance.
Conception indépendante de la batterie.
Minuterie d'utilisation de sortie CA/PV configurable et priorisation.
Courant de charge haute puissance sélectionnable.
Plage de tension d'entrée sélectionnable pour les appareils ménagers et les ordinateurs personnels.
Compatible avec le réseau électrique ou l'entrée d'un générateur.
Fonctionnement en parallèle avec 6 unités.

Pour le modèle 10K
IP20.
Barre LED d'état personnalisable avec lumières RGB.
Bouton tactile avec écran LCD coloré de 5".
Wi-Fi intégré pour la surveillance mobile (Android/iOS Apps sont disponibles).
Prend en charge la fonction USB On-the-Go.
Kit anti-poussière intégré.
Sortie CC optionnelle pour ventilateur CC, ampoule LED, routeur et ainsi de suite.
SOLUTIONS
+

PENSER

+

CONSTRUIRE

Spécifications
MODÉLE
Omega PRO v2 8K-48
Omega PRO v2 10K-48
DATA SHEET
MODE D'EMPLOI
Rated Power
8000 VA / 8000 W
10000 VA / 10000 W
Parallel Capability
Yes, 6 units
INPUT
Voltage
230 VAC
Selectable Voltage Range
170 - 280 VAC (For Personal Computers); 90 - 280 VAC (For Home Appliances)
Frequency Range
50 / 60 Hz (Auto sensing)
OUTPUT
AC Voltage Regulation (Batt. Mode)
230 VAC ± 5%
Surge Power
16000 VA
20000 VA
Efficiency (Peak)
90% ~ 93%
93%
Transfer Time
10 ms (For Personal Computers); 20 ms (For Home Appliances)
Waveform
Pure sine wave
No Load Power Consumption
< 60 W
-
DC Voltage (Optional)
-
12 VDC + 5%, 100 W
BATTERY
Battery Voltage
48 VDC
Floating Charge Voltage
54 VDC
Overcharge Protection
66 VDC
SOLAR CHARGER & AC CHARGER
Solar Charger Type
MPPT
Maximum PV Array Power
8000 W (4000 W x 2)
10000 W (5000 W x 2)
MPPT Range @ Operating Voltage
90 ~ 450 VDC
Maximum. PV Array Open Circuit Voltage
500 VDC
Maximum Solar Charge Current
150 A
Maximum AC Charge Current
120 A
150 A
Maximum Charge Current
150 A
PHYSICAL
Dimension, D x W x H (mm)
210 x 435 x 665
158.4 x 503.6 x 530.8
Net Weight (kg)
32
10
Communication Interface
USB / RS-232 / Dry Contact / RS-485 / Wi-Fi / BMS
USB / RS-232 / Dry Contact / RS-485 / Wi-Fi
OPERATING ENVIRONMENT
Humidity
5% to 95% Relative Humidity (Non-condensing)
Operating Temperature
-10°C to 50°C
Storage Temperature
-15°C to 60°C
STANDARD
Compliance Safety
CE
Les caractéristiques techniques du produit sont susceptibles d'être modifiées sans préavis.