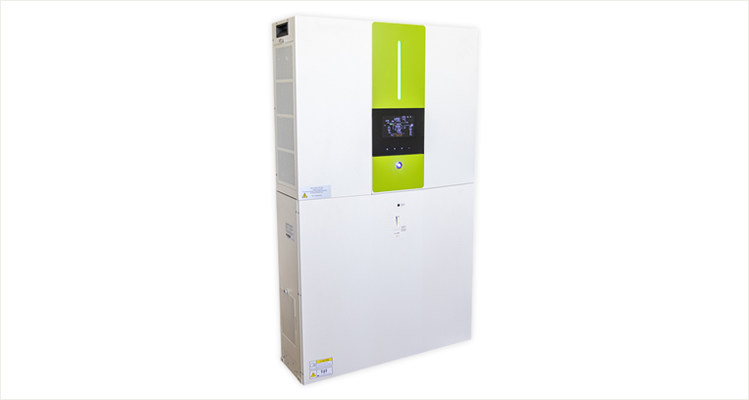 Série Omega ESS
Caractéristiques principales
Sortie d'onde sinusoïdale pure.
Autoconsommation et rétroaction au réseau.
Priorité d'alimentation programmable pour le PV, la batterie ou le réseau.
Courant de charge de la batterie réglable par l'utilisateur.
Modes de fonctionnement multiples programmables: Raccordement au réseau, hors réseau et raccordement au réseau avec secours.
Minuterie intégrée pour différents modes de fonctionnement marche/arrêt.
Communication multiple pour USB, RS232, Modbus, SNMP, GPRS et Wi-Fi.
Logiciel de surveillance pour l'affichage et le contrôle de l'état en temps réel.
Chargeur CA / Solaire jusqu'à 60 A.
Extension de la batterie Li-Ion évolutive.
Cycle de vie de la batterie Li-Ion: 8000 cycles à 25°C.
Courant de décharge élevé jusqu'à 3C.
IP 20.
Spécifications
MODÉLE
Omega ESS 510 5.5K
DATA SHEET
Maximum PV Input Power
6500 W
Rated Output Power
5500 W
Maximum Charging Power
2880 W
PV INPUT (DC)
Nominal DC Voltage / Maximum DC Voltage
360 VDC / 500 VDC
Start-Up Voltage / Initial Feeding Voltage
116 VDC / 150 VDC
MPP Voltage Range
120 VDC ~ 450 VDC
Number of MPP Trackers / Maximum Input Current
2 / 2 x 13 A
GRID OUTPUT (AC)
Nominal Output Voltage
208 / 220 / 230 / 240 VAC
Output Voltage Range
184 - 264.5 VAC*
Maximum Output Current
23.9 A*
Maximum Conversion Efficiency (DC / AC)
96%
European Efficiency @ Vnominal
95%
AC INPUT
AC Start-Up Voltage / Auto Restart Voltage
120 - 140 VAC / 180 VAC
Acceptable Input Voltage Range
170 - 280 VAC
Maximum AC Input Current
40 A
BATTERY MODE OUTPUT (AC)
Nominal Output Voltage
208 / 220 / 230 / 240 VAC
Efficiency (DC to AC)
93%
BATTERY & CHARGER
Nominal DC Voltage
48 VDC
Maximum Charging Current
100 A
PHYSICAL
Dimension, D x W x H (mm)
214 x 621 x 500
Net Weight (kg)
25
BATTERY MODULE
Capacity
4800 Wh
PARAMETERS
Nominal Voltage
48 VDC
Full Charge Voltage (FC)
52.5 V
Full Discharge Voltage (FD)
34.5 V
Typical Capacity
100 Ah
Maximum Continuous Discharging Current
120 A
Maximum Discharging Current
192 A at 1 min
Protection
BMS, Breaker
Charge Voltage
52.5
Charge Current
20 A (0.2 C)
Maximum Charge Current
50 A (0.5 C)
Standard Charge Method
0.2 C CC (Constant current) charge to FC, CV (Constant voltage FC) charge till charge current decline to < 0.05 C
Inner Resistance
< 20 m Ohm
Dimension, D x W x H (mm)
214 x 621 x 500
Net Weight (kg)
55
* Ces chiffres peuvent varier en fonction de la tension alternative et de la régulation du pays.
Les caractéristiques techniques du produit sont susceptibles d'être modifiées sans préavis.