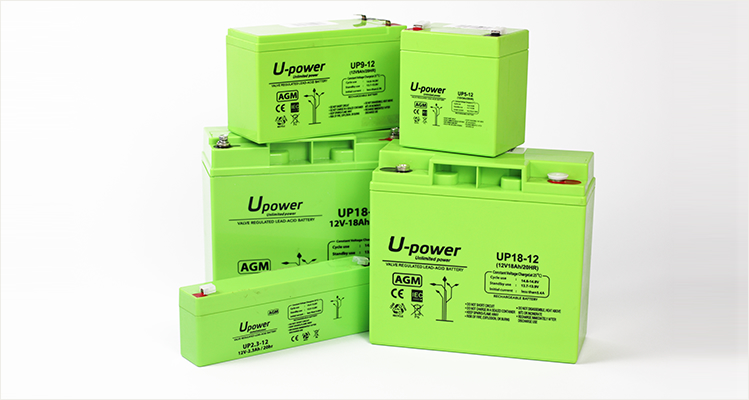 General purpose AGM
High Reliability
Extensive control processes, from raw materials to delivery to the end customer, within the international quality standards implemented in the company.
Valve Regulated Lead Acid batteries
Designed for better gas recombination, with minimal hydrogen losses, aid to inner pressure regulation, increasing its performance and security.
SOLUTIONS
+

THINK

+

CONSTRUCT
Main uses
Telecommunication devices
Security systems
UPS
Cash registers
Electronic measuring equipment
Electric bicycles and wheelchairs
Marine and geophysical
equipment
Medical equipment
Vending machines
etc ...
Specifications
Model
Nominal
Voltage (V)
Capacity
(20H)
Capacity
(10H)
Length
(mm/inch)
Width
(mm/inch)
Height
(mm/inch)
Total Height
(mm/inch)
Weight
(kg)
Terminal
Data Sheet
(PDF)

000

UP4.0-2
2
4.0
3.72
48 / 1.89
25 / 0.98
101 / 3.98
107 / 4.21
0.28
T1

010

UP0.7-4
4
0.7
0.65
35 / 1.38
22 / 0.87
64 / 2.52
68.5 / 2.70
0.1
/

011

UP3.5-4
4
3.5
3.26
90 / 3.54
34 / 1.34
59 / 2.32
65 / 2.56
0.45
T1

012

UP4.5-4
4
4.5
4.19
52.5 / 2.07
48 / 1.89
94 / 3.70
100 / 3.94
0.60
T1 / T2

013

UP5.0-4
4
5.0
4.65
91 / 3.58
50 / 1.97
74 / 2.91
74 / 2.91
0.66
T1 / T2

014

UP8.0-4
4
8.0
7.44
91 / 3.58
50 / 1.97
101 / 3.98
101 / 3.98
0.97
T1 / T2

015

UP10-4
4
10.0
9.30
101.5 / 4.00
50 / 1.97
94 / 3.70
100 / 3.94
1.14
T2

016

UP20-4
4
20.0
18.60
149 / 5.87
43 / 1.69
154 / 6.06
166 / 6.53
2.2
T2 / T3

017

UP1.0-6
6
1.0
0.93
51 / 2.01
42 / 1.65
51 / 2.01
57 / 2.24
0.25
T1

018

UP1.3-6
6
1.3
1.12
97 / 3.82
24 / 0.94
51.5 / 2.03
57.5 / 2.26
0.29
T1

019

UP2.8-6
6
2.8
2.6
66 / 2.60
33 / 1.30
97 / 3.82
103 / 4.06
0.57
T1

020

UP3.3-6
6
3.2
2.98
134 / 5.27
34 / 1.34
60 / 2.36
66 / 2.60
0.67
T1

021

UP4.0-6
6
4.0
3.72
70 / 2.76
47 / 1.85
100 / 3.94
106 / 4.17
0.65
T1

022

UP4.5-6
6
4.5
4.19
70 / 2.76
47 / 1.85
100 / 3.94
106 / 4.17
0.81
T1

023

UP4.5S-6
6
4.5
4.19
67 / 2.64
67 / 2.64
96 / 3.78
109 / 4.29
0.81
S

024

UP5.0-6
6
5.0
4.65
169 / 4.29
35 / 1.38
70 / 2.76
74 / 2.91
1.00
T1

025

UP5.4-6
6
5.4
5.02
70 / 2.76
47 / 1.85
100 / 3.94
106 / 4.17
0.78
T1

026

UP6.0-6
6
6.0
5.58
70 / 2.76
47 / 1.85
100 / 3.94
106 / 4.17
0.93
T1

027

UP7.0-6
6
7.0
6.51
151 / 5.94
34 / 1.34
94 / 3.70
100 / 3.94
1.15
T1 / T2

028

UP7.2-6
6
7.2
6.7
151 / 5.94
34 / 1.34
94 / 3.70
100 / 3.94
1.2
T1 / T2

029

UP7.5-6
6
7.5
6.98
151 / 5.94
34 / 1.34
94 / 3.70
100 / 3.94
1.26
T1 / T2

030

UP7.8-6
6
7.8
7.25
151 / 5.94
34 / 1.34
94 / 3.70
100 / 3.94
1.28
T1 / T2

031

UP8.5-6
6
8.5
7.91
151 / 5.94
34 / 1.34
94 / 3.70
100 / 3.94
1.2
T1 / T2

032

UP10-6
6
10.0
9.30
151 / 5.94
51 / 2.01
94 / 3.70
100 / 3.94
1.68
T1 / T2

033

UP12-6
6
12.0
11.2
151 / 5.94
51 / 2.01
94 / 3.70
100 / 3.94
1.80
T1 / T2

034

UP13-6
6
13
12.09
108 / 4.25
70 / 2.76
140 / 5.51
140 / 5.51
2.24
NT1 / PT2

035

UP14-6
6
14
13.02
151 / 5.94
51 / 2.01
94 / 3.70
100 / 3.94
2.05
T1 / T2

036

UP20-6
6
20.0
18.6
157 / 6.18
83 / 3.27
125 / 4.92
125 / 4.92
3.21
T3

037

UP36-6
6
36.0
33.5
161 / 6.34
87 / 3.43
163 / 6.42
169 / 6.65
5.5
T2 / T3

038

UP60-6
6
62
60
185 / 7.28
112 / 4.41
205 / 8.07
205 / 8.07
9.1
T2 / T3

039

UP100-6
6
104.0
100.0
195 / 7.68
170 / 6.69
206.5 / 8.13
212.5 / 8.37
15.6
T6

040

UP120-6
6
124.8
120
280 / 11.02
128 / 5.04
203 / 7.99
203 / 7.99
16.8
T6

041

UP150-6
6
156.0
150.0
260 / 10.2
180 / 7.09
247 / 9.72
253 / 9.96
21.2
T7

042

UP200-6
6
208.0
200.0
306 / 12.05
168 / 6.61
222 / 8.74
228 / 8.98
29.0
T8

043

UP3.2-8
8
3.2
2.98
134 / 5.28
36.5 / 1.46
63 / 2.48
69 / 2.72
0.75
T1

044

UP0.8-12
12
0.8
0.74
96 / 3.78
25 / 0.98
62 / 2.44
62 / 2.44
0.35
/

045

UP1.3-12
12
1.3
1.21
97 / 3.82
43 / 1.69
52 / 2.04
58 / 2.28
0.57
T1

046

UP1.9-12
12
1.9
1.77
178 / 7.00
35 / 1.38
60 / 2.36
66 / 2.60
0.87
T1

047

UP2.2-12
12
2.2
2.05
178 / 7.00
35 / 1.38
64 / 2.52
70 / 2.76
0.80
T1

048

UP2.3-12
12
2.3
2.14
178 / 7.00
35 / 1.38
60 / 2.36
66 / 2.60
0.96
T1

049

UP2.8-12
12
2.8
2.6
132 / 5.19
33 / 1.30
98 / 3.86
104 / 4.09
1.18
T1

050

UP2.9-12
12
2.9
2.7
79 / 3.11
56 / 2.20
99 / 3.90
105 / 4.13
1.1
T1

051

UP3.3-12
12
3.3
3.07
134 / 5.28
67 / 2.64
60.5 / 2.38
66.5 / 2.62
1.35
T1

052

UP5.0-12
12
5.0
4.65
90 / 3.54
70 / 2.76
101 / 3.98
107 / 4.21
1.75
T1 / T2

053

UP5-12S
12
5.0
4.65
90 / 3.54
70 / 2.76
101 / 3.98
107 / 4.21
1.65
T1 / T2

054

UP5-12SB
12
5.0
4.65
151 / 5.94
53 / 2.09
93 / 3.66
99 / 3.90
1.74
T1 / T20

055

UP6.0-12
12
6.5
6.05
151 / 5.94
50 / 1.97
93.5 / 3.68
99 / 3.90
2.06
T1 / T2

056

UP6.0-12H
12
6.0
5.58
140/ 5.51
48 / 1.89
102 / 4.02
103 / 4.06
1.84
NT1 / PT2

057

UP7.0-12S
12
7.0
6.51
151 / 5.94
65 / 2.56
93.5 / 3.68
99 / 3.90
2.18
T1 / T2

058

UP7.2-12F1
12
7.2
6.7
151 / 5.94
65 / 2.56
95 / 3.74
101 / 3.98
2.18
T1 / T2

059

UP7.2-12F2
12
7.2
6.7
151 / 5.94
65 / 2.56
95 / 3.74
101 / 3.98
2.18
T1 / T2

060

UP7.5-12
12
7.5
6.98
151 / 5.94
65 / 2.56
93.5 / 3.68
99 / 3.90
2.45
T1 / T2

061

UP7.8-12
12
7.8
7.25
151 / 5.94
65 / 2.56
93.5 / 3.68
99 / 3.90
2.5
T1 / T2

062

UP8.5-12
12
8.5
7.91
151 / 5.94
65 / 2.56
93.5 / 3.68
99 / 3.90
2.45
T1 / T2

063

UP9.0-12
12
9.0
8.31
151 / 5.94
65 / 2.56
95 / 3.74
101 / 3.98
2.66
T1 / T2

064

UP10-12
12
10
9.3
151 / 5.94
98 / 3.86
95 / 3.74
101 / 3.98
3.4
T1 / T2

065

UP12-12
12
12.72
12.0
151 / 5.94
98 / 3.86
95 / 3.74
101 / 3.98
3.80
T1 / T2

066

UP14-12
12
12
11.2
151 / 5.94
98 / 3.86
95 / 3.74
101 / 3.98
4.05
T1 / T2

067

UP15-12
12
15
14
181.5 / 7.15
77 / 3.03
167.5 / 6.59
167.5 / 6.59
4.56
T3

068

UP18-12
12
19.08
18.0
181.5 / 7.15
77 / 3.03
167.5 / 6.59
167.5 / 6.59
5.7
T12

069

UP20-12
12
20.0
18.6
181.5 / 7.15
77 / 3.03
167.5 / 6.59
167.5 / 6.59
5.78
T3

070

UP24-12
12
24
22.3
166 / 6.56
175 / 6.89
125 / 4.92
125 / 4.92
7.2
T3 / T12

071

UP26-12
12
27.6
26.0
166 / 6.56
175 / 6.89
125 / 4.92
125 / 4.92
8.0
T3 / T12

072

UP28-12
12
28
26
166 / 6.56
175 / 6.89
125 / 4.92
125 / 4.92
8.4
T3 / T12

073

UP30-12
12
30.0
27.9
166 / 6.56
175 / 6.89
125 / 4.92
125 / 4.92
8.6
T12

074

UP33-12
12
33
30.7
195 / 7.68
130 / 5.12
164 / 6.46
180 / 7.09
10.5
T5

075

UP35-12
12
35.0
32.6
195 / 7.68
130 / 5.12
164 / 6.46
180 / 7.09
11.2
T5 / T6

076

UP38-12
12
39.5
38
197 / 7.76
165 / 6.5
170 / 6.69
170 / 6.69
12.2
T6 / T12

077

UP40-12
12
41.6
40.0
255 / 10
97 / 3.82
203 / 7.99
203 / 7.99
13.0
T7

078

UP44-12
12
46.8
45.0
197 / 7.76
165 / 6.5
170 / 6.69
170 / 6.69
14.2
T6

079

UP50-12
12
52.0
50.0
257 / 10.1
132 / 5.2
200 / 7.87
200 / 7.87
16.0
T6

080

UP55-12
12
58.8
55.0
228 / 8.98
137 / 5.39
210 / 8.27
230 / 9.06
17.7
T9

081

UP60-12
12
64.2
60.0
259 / 10.2
168 / 6.61
208 / 8.19
239 / 9.06
20.3
T6 / T9 / T14

082

UP65-12
12
69.5
65.0
348 / 13.7
167 / 6.57
178 / 7.01
178 / 7.01
21.0
T6 / T11

083

UP70-12
12
75.0
70.0
348 / 13.7
167 / 6.57
178 / 7.01
178 / 7.01
24.0
T6

084

UP75-12
12
80.2
75.0
259 / 10.2
168 / 6.61
208 / 8.19
214 / 8.43
23.0
T6 / T9 / T14

085

UP80-12
12
83.2
80.0
259 / 10.2
168 / 6.61
208 / 8.19
214 / 8.43
24.0
T6

086

UP90-12
12
96.3
90.0
305 / 12.01
168 / 6.61
207 / 8.15
213 / 8.39
27.5
T6

087

UP100-12
12
107.0
100.0
330 / 13
173 / 6.81
212 / 8.35
220 / 8.66
31.5
T11

088

UP120-12
12
128.4
120.0
410 / 16.14
177 / 6.97
225 / 8.86
225 / 8.86
37.6
T11

089

UP135-12
12
140.4
135.0
344 / 13.5
171 / 6.73
274 / 10.79
280 / 11.02
41.2
T11

090

UP150-12
12
160.5
150.0
485 / 19.1
170 / 6.69
240 / 9.45
240 / 9.45
48.2
T11

091

UP180-12
12
187.2
180.0
530 / 20.09
209 / 8.2
214 / 8.43
220 / 8.66
52.8
T11

092

UP200-12
12
214.0
200.0
522 / 20.6
240 / 9.45
218 / 8.58
224 / 8.82
64.0
T11

093

UP250-12
12
267.5
250.0
522 / 20.6
268 / 10.6
220 / 8.66
226 / 8.9
77.0
T8