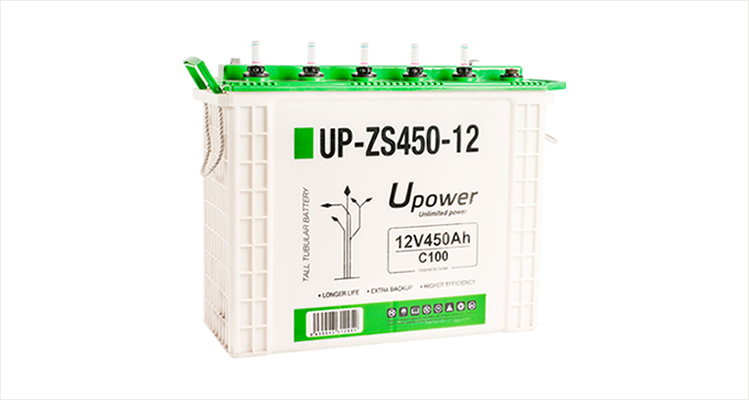 Advanced Tubular
Next generation high tubular battery with improved charge acceptance and extended back-up.
30% more acid volume per ampere hour than ordinary tubular batteries.
Features a patented, high-purity, corrosion-resistant column alloy composition for long battery life.
Extra-strong, flexible, oxidation-resistant gauntlet for improved performance and long life.
Puncture resistant polyethylene separator minimises the possibility of internal short circuits.
High durability with sealed plastic housing.
Best solution for areas with prolonged and frequent power outages.
Easy maintenance with level indicators.
SOLUTIONS
+

THINK

+

CONSTRUCT
Main uses
Home Appliances
Power Back-Up
Office Equipment
Security Instruments
Emergency Lighting
etc ...
Specifications
Model
Capacity
@ C10
(Ah)
Capacity
@ C20
(Ah)
Capacity
@ C100
(Ah)
Length
(mm/inch)
Width
(mm/inch)
Height up to
float top
(mm/inch)
Gross
Weight
(kg)
Data
Sheet
(PDF)
UP-ZS300-12
200
220
300
506 / 19.92
190 / 7.48
479 / 18.86
68.5
UP-ZS450-12
300
330
450
506 / 19.92
190 / 7.48
479 / 18.86
72