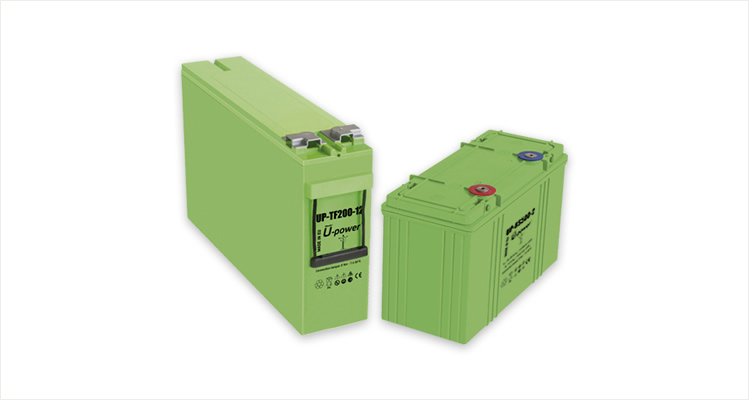 Deep Cycle AGM
Main Features
AGM technology.
Extremely high cyclic life.
EUROBAT classification; 12+ years design life, Long Life.
VRLA batteries, maintenance free, internal gas recombination efficiency 99%.
Easy installation and commissioning.
ABS V0 (flame retardant) container and lid.
Battery 100% recyclable.
SOLUTIONS
+

THINK

+

CONSTRUCT
Solar energy systems
Mobile homes
Street solar lighting
Vessels
Fork lifts
Lifting platforms
Electrical vehicles
Sweepers
Scrubbing machines
Electric stackers
etc ...
Specifications
Model
Nominal
Voltage
(V)
Capacity
(100H)
Length
(mm/inch)
Width
(mm/inch)
Height
(mm/inch)
Total Height
(mm/inch)
Weight
(kg)
IR
mΩ
Terminal
Data Sheet
(PDF)
UP-TFS250
12
250
555 / 21.8
125 / 4.9
320 / 12.6
320 / 12.6
59.8
3.95
1+1 FA
UP-RS250-6
6
255
386 / 15.2
168 / 6.6
232 / 9.1
232 / 9.1
35.0
1.40
1+1 TA
UP-RS388-4
4
388
386 / 15.2
168 / 6.6
232 / 9.1
232 / 9.1
36.0
0.81
1+1 TA
UP-RS500-2
2
500
386 / 15.2
168 / 6.6
232 / 9.1
232 / 9.1
28.5
0.39
2+2 FA
UP-RS625-2
2
625
386 / 15.2
168 / 6.6
232 / 9.1
232 / 9.1
32.0
0.35
2+2 FA
UP-RS775-2
2
775
386 / 15.2
168 / 6.6
232 / 9.1
232 / 9.1
36.0
0.31
2+2 FA