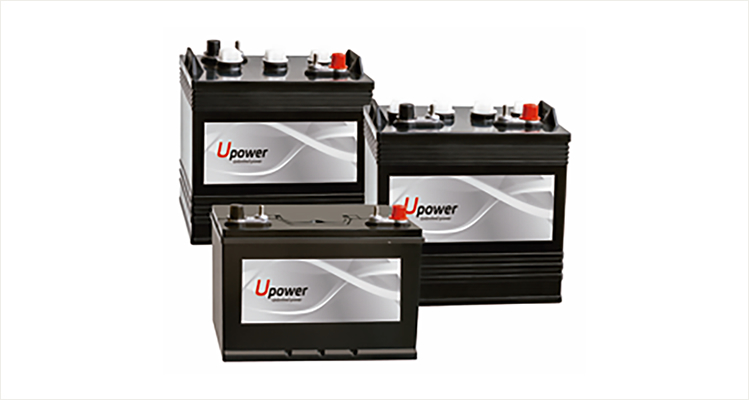 Deep Cycle Batteries
Main Features
Perfect option for applications demanding extremely high resistance to deep and repeated discharge cycles.
More than 400 cycles at 75% DOD (for 12V batteries).
More than 1000 cycles at 75% DOD(for 6V and 8V).
More than 2000 cycles as per IEC 61427(PVES applications).
Very wide choice of capacities for any type of application.
SOLUTIONS
+

THINK

+

CONSTRUCT
U Power Deep Cycle range is specially design for powering electrical equipment for longer periods of time with increased ability of deep discharge cycles.
Specifications
Model
Nominal Voltage (V)
Capacity
(20H)
Length
(mm/inch)
Width
(mm/inch)
Height
(mm/inch)
Typical Weight
(kg/lbs)
Terminal
Data Sheet
(PDF)
UP-MP 6VUS
6
225
261 / 10.28
181 / 7.13
276 / 10.87
29.13 / 64.22
Bolted
UP-MP 305
6
360
311 / 12.25
180 / 7.09
356 / 14.02
47.46 / 104.63
Conical
UP-MP 8VUS
8
175
261 / 10.28
181 / 7.13
276 / 10.87
31.19 / 68.76
Bolted
UP-MP 24DC
12
80
260 / 10.20
175 / 6.90
220 / 8.70
20.70 / 45.60
Dual
UP-MP 27DC
12
95
304 / 12.00
173 / 6.80
220 / 8.70
24.40 / 53.80
Dual
UP-MP 31DC
12
110
336 / 13.20
173 / 6.80
235 / 9.20
28.40 / 62.60
Top
UP-MP GC12
12
130
345 / 13.60
175 / 6.90
285 / 11.20
33.20 / 73.20
Top