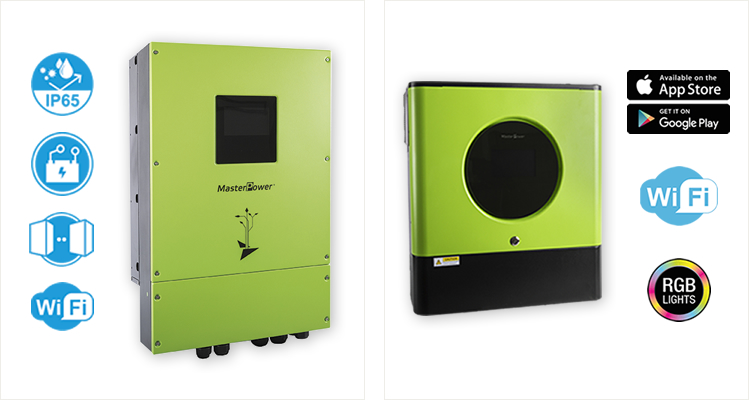 Omega PRO
v

2 Series

Main Features
IP65 waterproof and dustproof makes the inverter available for various working conditions.
Reserved communication port for BMS (RS485, CAN-BUS or RS232).
Replaceable fan design for ease of maintenance.
Battery independent design.
Configurable AC/PV output usage timer and prioritization.
Selectable high power charging current.
Selectable input voltage range for home appliances and personal computers.
Compatible to Utility Mains or generator input.
Parallel operation with 6 units.

For Model 10K
IP20.
Customizable status LED bar with RGB lights.
Touchable button with 5" colored LCD.
Built-in Wi-Fi for mobile monitoring (Android/iOS Apps are available).
Supports USB On-the-Go function.
Built-in anti-dust kit.
Optional DC output for DC fan, LED bulb, router and so on.
SOLUTIONS
+

THINK

+

CONSTRUCT
Specifications
MODEL
Omega PRO v2 8K-48
Omega PRO v2 10K-48
DATA SHEET
USER MANUAL
Rated Power
8000 VA / 8000 W
10000 VA / 10000 W
Parallel Capability
Yes, 6 units
INPUT
Voltage
230 VAC
Selectable Voltage Range
170 - 280 VAC (For Personal Computers); 90 - 280 VAC (For Home Appliances)
Frequency Range
50 / 60 Hz (Auto sensing)
OUTPUT
AC Voltage Regulation (Batt. Mode)
230 VAC ± 5%
Surge Power
16000 VA
20000 VA
Efficiency (Peak)
90% ~ 93%
93%
Transfer Time
10 ms (For Personal Computers); 20 ms (For Home Appliances)
Waveform
Pure sine wave
No Load Power Consumption
< 60 W
-
DC Voltage (Optional)
-
12 VDC + 5%, 100 W
BATTERY
Battery Voltage
48 VDC
Floating Charge Voltage
54 VDC
Overcharge Protection
66 VDC
SOLAR CHARGER & AC CHARGER
Solar Charger Type
MPPT
Maximum PV Array Power
8000 W (4000 W x 2)
MPPT Range @ Operating Voltage
90 ~ 450 VDC
Maximum. PV Array Open Circuit Voltage
500 VDC
Maximum Solar Charge Current
150 A
Maximum AC Charge Current
120 A
150 A
Maximum Charge Current
150 A
PHYSICAL
Dimension, D x W x H (mm)
210 x 435 x 665
158.4 x 503.6 x 530.8
Net Weight (kg)
32
10
Communication Interface
USB / RS-232 / Dry Contact / RS-485 / Wi-Fi / BMS
USB / RS-232 / Dry Contact / RS-485 / Wi-Fi
OPERATING ENVIRONMENT
Humidity
5% to 95% Relative Humidity (Non-condensing)
Operating Temperature
-10°C to 50°C
Storage Temperature
-15°C to 60°C
STANDARD
Compliance Safety
CE
Product specifications are subject to change without further notice.