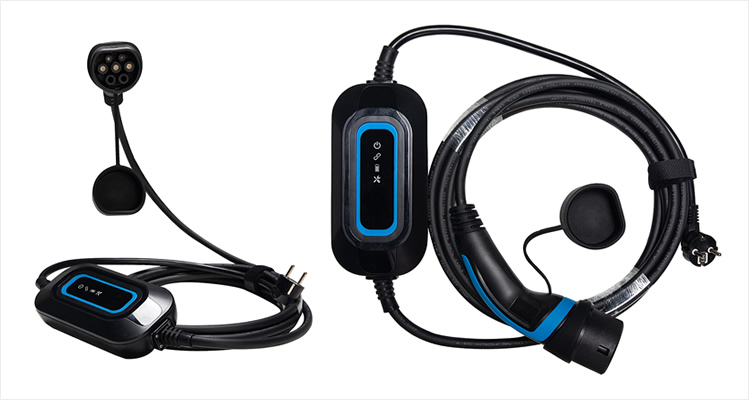 Charger - Portable 3.6/7.2kW
Innovativeness
Small size and streamline design, home use with intelligent App control.
Intelligent Control
Wireless communication (Wi-Fi/Bluetooth), OCPP1.6 communication protocol with the backend, Smart charge or scheduled charge by App.
Flexible Option
Type 1 or Type 2 charging cable, Bluetooth App operation or plug and play, Wallmounted or floor-stand installation.
Secure and Safe
6mA DC residual current protection, Anti-welding protection.
European standard / AC EV Charger
Plug and charge, charging is so simple.
Master Power portable EV charger is specially designed for electric car owners to charge their car at home. This portable electric vehicle charger is safe, simple and smart. When you get home, you only need to connect the gun, the home electric vehicle charger automatically starts charging, and it automatically stops charging when it is full, which can guarantee your Electric cars start every day with full power.
Electrical Protection: Over current protection, Residual current protection, Ground protection, Surge protection, Over/Under voltage protection, Over/Under frequency protection, Over/Under temperature protection.
SOLUTIONS
+

THINK

+

CONSTRUCT
HIGH COMPATIBILITY


Compatible with all electric vehicle models.



PERFECT PROTECTION


360° protection for you and your electric vehicle.



SMART AND CONVENIENT


Plug and charge, intelligent control, automatic stop when full.



SUPPORT CUSTOMIZATION


EV charger OEM, ODM and Agent.
Specifications
MODEL
MF - EV 3.6kW - POR
MF - EV 7.2kW - POR
INPUT
Number of Phase / Wire
Single Phase
Rated Voltage
230VAC
Rated Current
8A, 10A, 13A, 16A Adjustable
8A, 10A, 13A, 16A, 20A, 25A, 32A Adjustable
Frequency
50 / 60Hz
OUTPUT
Output Voltage
230VAC
Maximum Current
16A
32A
Rated Power
3.6kW
7.2kW
Product specifications are subject to change without further notice.