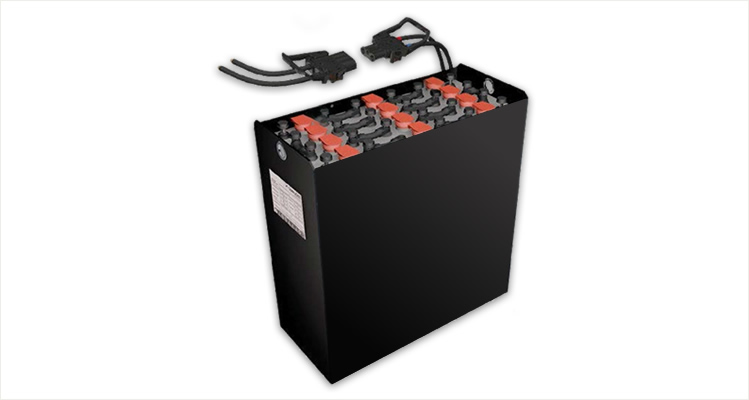 Main Features
Available in every voltage and cell arrangement configuration.
Fully plastic coated steel containers in many dimensions.
Insulated bolts and connectors increasing the user safety and simplifying maintenance and repair.
A complete range of accessories covering practically every need.
Suitable for all applications from light duty to heavy duty.
SOLUTIONS
+

THINK

+

CONSTRUCT
Main uses
Forklift trucks
Cleaningmachines
Electric vehicles
They are available in all kinds
of voltage configuration and foms
Specifications
Plate Type: 23 Ah****
Type Designation
Nominal Capacity
Ah (C5)*
Max cell dimensions mm***
Weight in kg**
b: 158
h1: 203
h2: 230
l
2 PzB 46
46
45
3.9
3 PzB 69
69
61
5.3
4 PzB 92
92
77
6.7
5 PzB 115
115
93
8.1
6 PzB 138
138
109
9.5
Plate Type: 32 Ah****
Type Designation
Nominal Capacity
Ah (C5)*
Max cell dimensions mm***
Weight in kg**
b: 158
h1: 265
h2: 292
l
2 PzB 64
64
45
5.0
3 PzB 96
96
61
6.8
4 PzB 128
128
77
8.7
5 PzB 160
160
93
10.6
6 PzB 192
192
109
12.5
7 PzB 224
224
125
14.4
8 PzB 256
256
141
16.2
Plate Type: 42 Ah****
Type Designation
Nominal Capacity
Ah (C5)*
Max cell dimensions mm***
Weight in kg**
b: 158
h1: 331
h2: 358
l
2 PzB 84
84
45
6.5
3 PzB 126
126
61
8.9
4 PzB 168
168
77
11.4
5 PzB 210
210
93
13.8
6 PzB 252
252
109
16.3
7 PzB 294
294
125
18.8
8 PzB 336
336
141
21.2
Plate Type: 55 Ah
Type Designation
Nominal Capacity
Ah (C5)*
Max cell dimensions mm***
Weight in kg**
b: 158
h1: 401
h2: 428
l
2 PzB 110
110
45
7.9
3 PzB 165
165
61
11.0
4 PzB 220
220
77
14.0
5 PzB 275
275
93
17.1
6 PzB 330
330
109
20.1
7 PzB 385
385
125
23.2
8 PzB 440
440
141
26.2
9 PzB 495
495
157
29.2
10 PzB 550
550
173
32.3
Plate Type: 65 Ah
Type Designation
Nominal Capacity
Ah (C5)*
Max cell dimensions mm***
Weight in kg**
b: 158
h1: 457
h2: 484
l
2 PzB 130
130
45
9.1
3 PzB 195
195
61
12.5
4 PzB 260
260
77
16.1
5 PzB 325
325
93
19.5
6 PzB 390
390
109
23.0
7 PzB 455
455
125
26.5
8 PzB 520
520
141
30.1
9 PzB 585
585
157
33.5
10 PzB 650
650
173
37.0
Plate Type: 75 Ah
Type Designation
Nominal Capacity
Ah (C5)*
Max cell dimensions mm***
Weight in kg**
b: 158
h1: 514
h2: 541
l
2 PzB 150
150
45
10.3
3 PzB 225
225
61
14.2
4 PzB 300
300
77
18.2
5 PzB 375
375
93
22.2
6 PzB 450
450
109
26.2
7 PzB 525
525
125
30.2
8 PzB 600
600
141
34.2
9 PzB 675
675
157
38.2
10 PzB 750
750
173
42.2
Plate Type: 85 Ah
Type Designation
Nominal Capacity
Ah (C5)*
Max cell dimensions mm***
Weight in kg**
b: 158
h1: 570
h2: 597
l
2 PzB 170
170
45
11.5
3 PzB 255
255
61
16.2
4 PzB 340
340
77
20.5
5 PzB 425
425
93
25.0
6 PzB 510
510
109
29.4
7 PzB 595
595
125
33.8
8 PzB 680
680
141
38.4
9 PzB 765
765
157
42.6
10 PzB 850
850
173
47.2
Plate Type: 100 Ah
Type Designation
Nominal Capacity
Ah (C5)*
Max cell dimensions mm***
Weight in kg**
b: 158
h1: 606
h2: 633
l
2 PzB 200
200
45
12.3
3 PzB 300
300
61
16.8
4 PzB 400
400
77
21.5
5 PzB 500
500
93
26.1
6 PzB 600
600
109
30.8
7 PzB 700
700
125
35.4
8 PzB 800
800
141
40.1
9 PzB 900
900
157
44.5
10 PzB 1000
1000
173
48.9
Plate Type: 105 Ah
Type Designation
Nominal Capacity
Ah (C5)*
Max cell dimensions mm***
Weight in kg**
b: 158
h1: 686
h2: 713
l
2 PzB 210
210
45
14.1
3 PzB 315
315
61
19.4
4 PzB 420
420
77
24.8
5 PzB 525
525
93
30.1
6 PzB 630
630
109
35.4
7 PzB 735
735
125
40.9
8 PzB 840
840
141
46.3
* According to IEC 60254- Part 1
** Filled and charged cell weights ± 5%
*** Cells' dimensions ± 2 mm, according to IEC 60254- Part 2
**** Available upon request