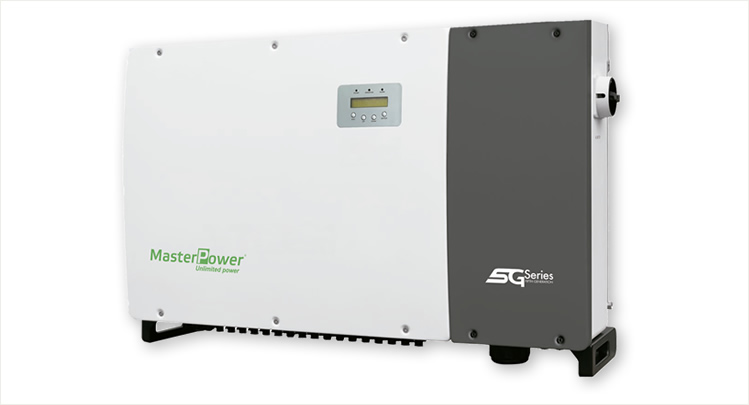 Beta 125K-EHV-5G Series
Efficient
99.1% maximum efficiency.
> 150% DC/AC ratio.
Compatible with bifacial modules.
Smart
Strong reactive power compensation.
Various communication modes for different scenarios.
Remote firmware upgrade with easy operation.
Safe
Built-in PID recovery for better module performance (optional).
Equipped with AC/DC switch, safe and convenient maintenance.
Globally recognised branded componentry for longer life.
Economic
Maximum DC input voltage: 1500V.
Supports aluminium wire access to reduce cost.
Specifications
MODEL
Beta 125K-EHV-5G
INPUT DC
Maximum Input Voltage (V)
1500
Rated Voltage (V)
950
Start-up Voltage (V)
900
MPPT Voltage Range (V)
860-1450
Maximum Input Current (A)
150
Maximum Short Circuit Current (A)
300
MPPT Number/Max. Input Strings Number
1/20
OUTPUT AC
Rated Output Power (kW)
125
Maximum Apparent Output Power (kVA)
125
Maximum Output Power (kW)
125
Rated Grid Voltage (V)
3/PE, 600
Rated Grid Frequency (Hz)
50 / 60
Rated Grid Output Current (A)
120.3
Maximum Output Current (A)
120.3
Power Factor
> 0.99 (0.8 leading - 0.8 lagging)
THDi
< 3%
EFFICIENCY
Maximum Efficiency
99.1%
CEC Efficiency
98.6%
PROTECTION
DC Reverse-Polarity Protection
Yes
Short Circuit Protection
Yes
Output Over Current Protection
Yes
Surge Protection
DC Type II/AC Type II
Grid Monitoring
Yes
Anti-Islanding Protection
Yes
Temperature Protection
Yes
Strings Monitoring
Yes
I/V Curve Scanning
Yes
DC Switch
Yes
AC Switch
Yes
GENERAL DATA
Dimensions (W*H*D) (mm)
1178*713.5*315
Weight (kg)
84
Topology
Transformerless
Self Consumption (Night)
< 3W (without anti-PID)
Operating Ambient Temperature Range
-25 ~ +60°C
Relative Humidity
0-100%
Ingress Protection
IP65
Cooling Concept
Intelligent redundant fan-cooling
Maximum Operation Altitude
4000m
Grid Connection Standard
G98 or G99 , EN 50549-1/-2, IEC61727, IEC62116
Safety/EMC Standard
IEC 62109-1/-2, EN 61000-6-2/-4
FEATURES
DC Connection
MC4 connector
AC Connection
OT terminal (maximum 185 mm²)
Display
LCD
Communication
RS-485, Optional: Ethernet, Wi-Fi, GPRS
Product specifications are subject to change without further notice.